Sheepskin is incredibly easy to care for – when you buy a sheepskin product, you're getting a unique piece that will be with you for decades. Sheepskin products are durable and robust – they even naturally repel dirt. By following our simple care tips, you'll ensure that your sheepskin stays as cozy and beautiful as the day you bought it.
Simple rules to follow
We have four simple rules for you to follow – and by following them, you'll avoid most of the damage that could come to your sheepskin. They are:
Avoid direct sunlight

Do not brush when wet

Dry vacuum

Treat stains immediately
Avoid direct sunlight
Sheepskin is a natural product – as such, it doesn't do well in direct sunlight. The sun can dry out the skin and bleach the colour, especially if your sheepskin has been dyed a certain hue. Things get worse if the sheepskin is damp in direct sunlight – the fibres may start to curl, which will cause permanent damage.
Do not brush when wet
It's a good idea to brush your sheepskin occasionally. Do not, however, brush it when the sheepskin is wet. Wait until it's completely dry before brushing it out.
Dry vacuum
To get rid of dust and other debris, you can dry vacuum your sheepskin regularly. One thing to keep in mind – you only want to use a plain suction unit. A suction nozzle should do fine for wool products of all sizes. Don't use turbo or revolving brush vacuum cleaners, as they can damage your sheepskin.
Treat stains immediately
We'll get into how you treat stains in the next section – it's incredibly simple. The key thing to remember here is that sheepskin will absorb liquids rather quickly, so you have to treat any stains right away.
General care
Regular vacuuming, as described above, is perfect for most sheepskin products. For some larger sheepskin products, regular brushing and shaking can help maintain the soft feel and fluffy look of the material.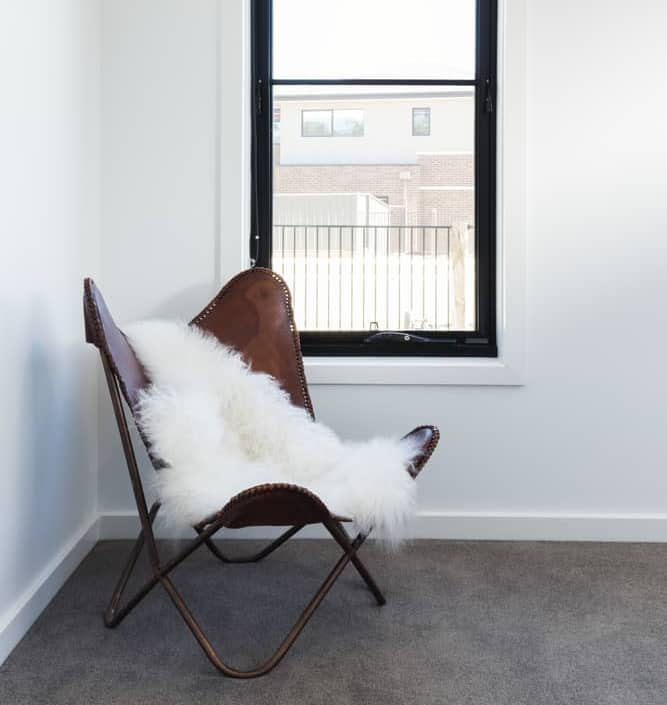 Removing stains
Sheepskin products are very prone to staining – fortunately, if you act quickly, the stains shouldn't set. And getting them out is quite simple – all you'll need is a little warm water, a couple of soft cloths, and a gentle cleaning agent, like our Kookaburra Wash.
Dampen the cloth, apply the cleaning agent, then gently work the stain with circular motions, starting on the outer perimeter of the stain and moving in. Once that's done, place a dry cloth over the remaining wet spot and apply pressure to draw up any excess moisture.
Washing
Generally, you want to avoid washing your sheepskin. One of the most beautiful things about these products is that they are, in part, self-cleaning. Sheepskin has a natural grease and other properties that make it dirt repellant and resilient to all kinds of dust and other potential contaminants.
Nonetheless, you may occasionally find you need to wash your sheepskin. Note that not all of our sheepskin products are machine washable – though most are. If you're not sure, all of our products have a tag indicating whether or not they're machine washable. If you can't find it, just ask us – we'll tell you.
If you do opt to machine wash whatever product you've purchased from us, do so:
In warm water (max 38°C)  
On the gentle cycle   
With a very mild detergent – something like our Kookaburra Wash will do nicely
In cases where your sheepskin cannot be machine washed, consider dry cleaning. This is an excellent option for heavily dyed sheepskins, or those with backing materials.
Drying
Do not machine dry (tumble dry) your sheepskin. Do not iron your sheepskin. Do not dry your sheepskin in direct sunlight. Do not light a fire underneath your sheepskin, or put your sheepskin next to your fireplace…
You get the idea.
So how do you dry your sheepskin? Simply line dry it. While it's drying (when it's still damp), gently pull it back to its original shape and size – this will help you avoid curling and otherwise misshapen sheepskin. Air movement can be helpful when drying – a fan can help speed up the drying process.
Caring for other products
Sheepskin slippers
Caring for sheepskin slippers is a two-part process – you need to treat the wool differently than the leather. For the wool, use the stain cleaning tips we laid out above. For the leather, you can use a suede brush. A suede cleaner, or even natural products, like vinegar, can help you clean this part of your slipper.
Remember – this is a natural sheepskin product, so stains need to be treated immediately.
Wool bedding
The exception to our "avoid machine washing wool products unless you really need to" rule is our wool bedding. Our mattress covers are completely machine washable – use the instructions we went over in the "Washing" section. As a reminder, you'll want to:
Wash in max 38°C (cool/warm cycle)
Use a mild detergent like our Kookaburra Wash
Use the gentle cycle
Do not machine (tumble) dry
With that, you know exactly what you need to do to care for sheepskin products! It's as easy as can be, and most cleaning steps will be done in two shakes of a lamb's tail. Enjoy your freshly cleaned sheepskin! For Sheepskin in Canada, shop at World of Sheepskin!